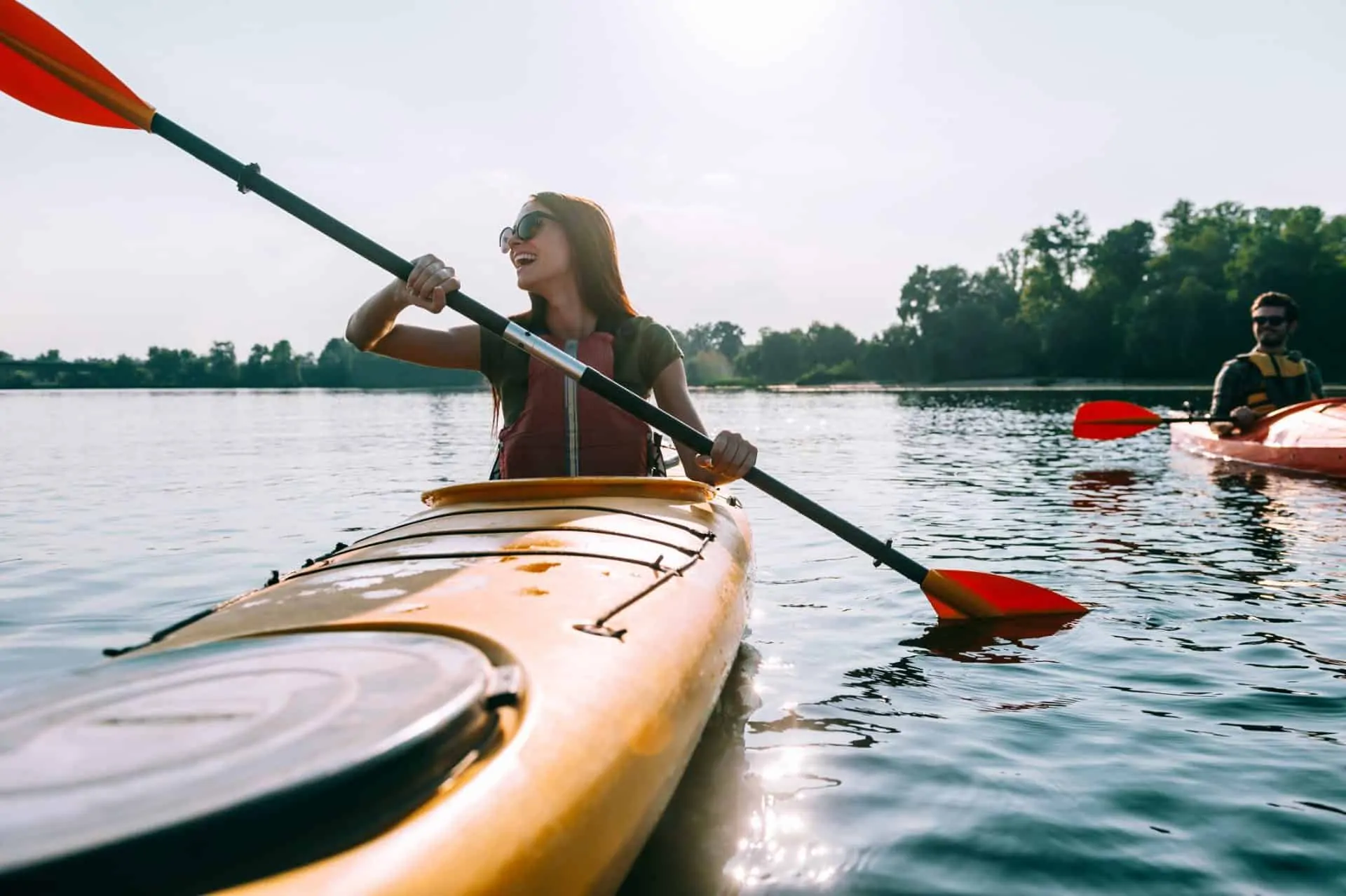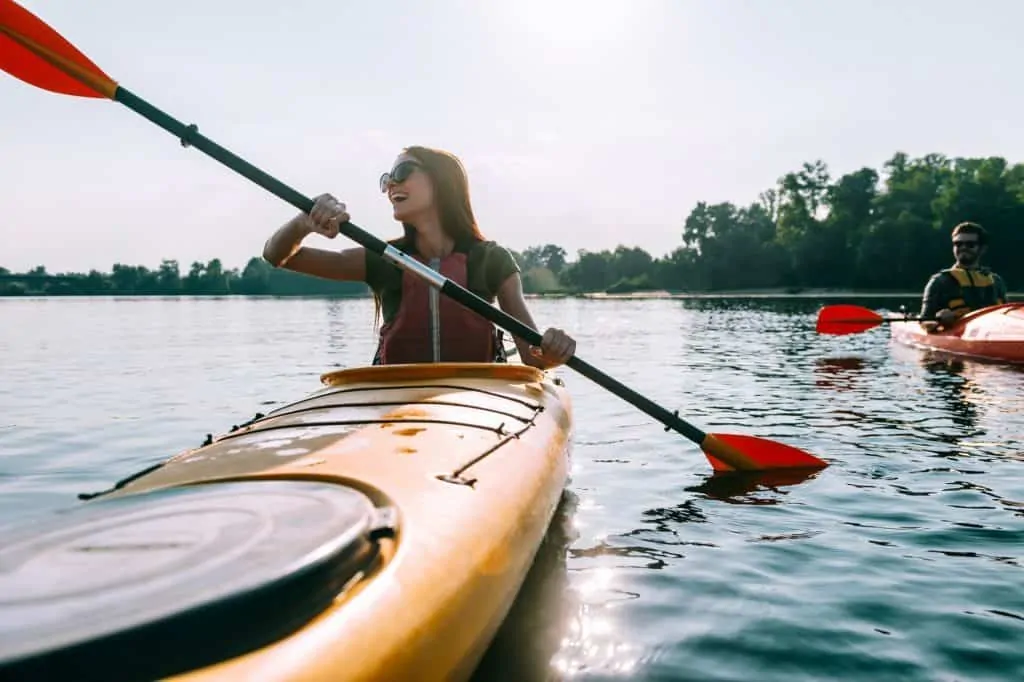 East Dallas residents value charming historic architecture, mature trees, friendly neighbors, and walkable neighborhoods with fantastic dining, shopping, and entertainment options all within a few blocks. We've compiled a list of nine things we love about East Dallas, some of our favorite things that make the area such a desirable place to live!
9. Tietze Park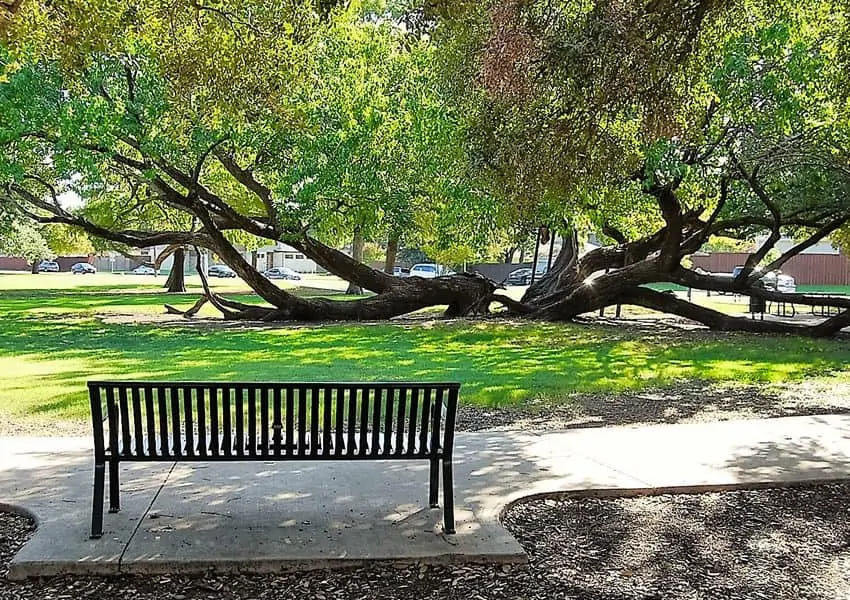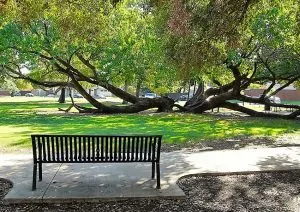 On Skillman Street, between Llano and Vanderbilt Avenues, Tietze Park is an 8.2 acre community park said to be the most-used park in Dallas, per square foot. A serene and green oasis with lots of relaxing shade trees to lounge under, Tietze Park also boasts amenities like a playground; covered picnic tables; a basketball court, tennis court, and softball field; and lots of wide open spaces perfect for your favorite outdoor recreation. There is also a community swimming pool — with just a $5 admission charge a fun and economical way to beat the summer heat! Tietze Park is also known for its more than 75 mature oak and live oak and cedar trees. The sprawling, "kneeling" Bois d'Arc trees, with their "on-the-ground" limbs, are a signpost of Tietze Park and are an irresistible climbing attraction for park visitors of all ages. Community events in the park — like parades, Easter Egg hunts, and even neighborhood document shredding! — illustrate why Tietze Park and East Dallas are such a great place to work, live and play.
8. Lakewood Shopping Center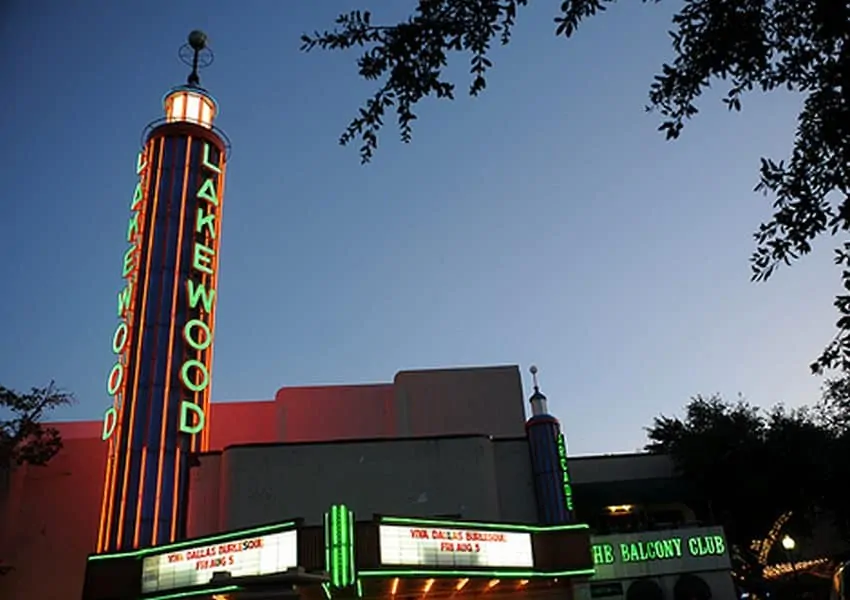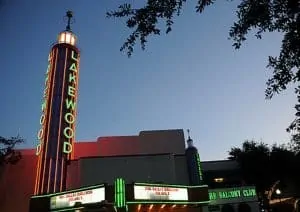 The Historic Lakewood Shopping Center offers an eclectic mix of neighborhood-based shopping and services, enjoyed by Lakewood residents and non-residents alike. The most iconic part of the shopping center is the beautiful, deco-era Lakewood Theater, whose neon lights serve as the shopping center's focal point. The shopping center includes restaurants like Mi Cocina, Liberty Burger, Unleavened, Lakewood Smokehouse, and Penne Pomodoro. The shopping center also boasts services like a grocery and hardware store, artists' studios, antiques, a winery, museum, bakers, banks, doctors, dentists, and veterinarians. Visitors to Lakewood Shopping center also enjoy Yummylicious frozen yogurt, Snow Baby's snow cones, a Starbucks, and cold-pressed juices and smoothies from Roots Juices. Groove to live jazz music seven nights a week at The Balcony Club, burn calories at Orangetheory fitness, or get pampered at 2 Shea Boutique and Med Spa or any of the other salons and boutiques in the center!
7. Lower & Lowest Greenville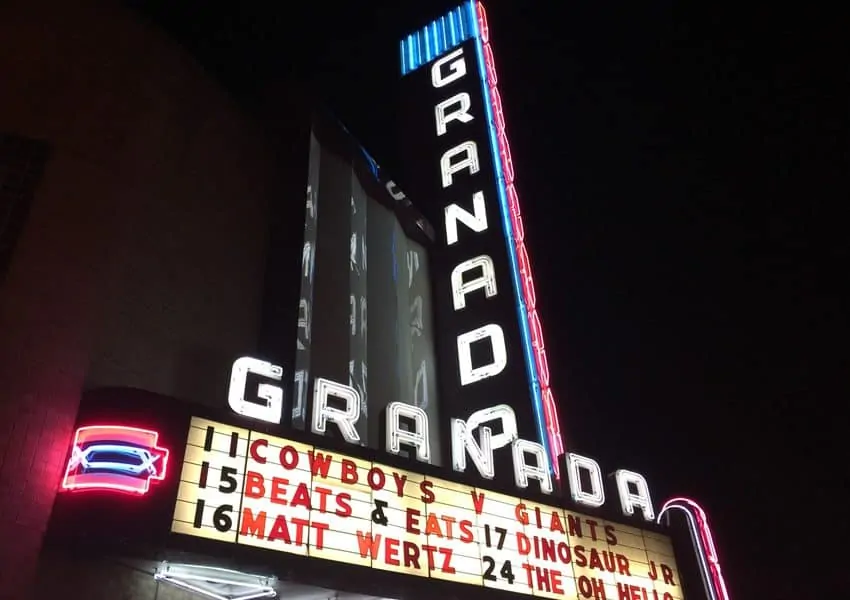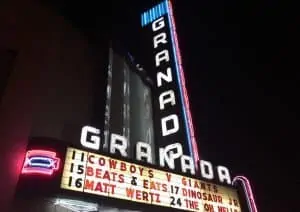 Whether driving in from the suburbs or walking over from the M Streets, Dallas residents treasure Greenville Avenue, Lower and Lowest, for all it has to offer. Well-known for the largest St. Patrick's Day parade and block party in the Southwest, Lower Greenville is also home to the historic Granada Theater, a 1946 Art Deco style movie theater now best known as one of the city's top live-music venues, with a monthly calendar of both local and national acts. Diners visiting Lower Greenville have many choices, including The Grape, St Martin's Wine Bistro, Terilli's Restaurant & Bar, Cafe Izmir, and Gloria's Latin Cuisine, to name but a few. Lower Greenville boasts plenty of night-life options, including skyline views from the rooftop patio of the Sundown at Granada, Dallas' oldest Irish pub the Dubliner, and Stan's Blue Note.
A little further south, Lowest Greenville has become a Dallas foodie destination, with restaurants like HG Sply, Rapscallion, Nora Restaurant and Bar, Boulangerie by Village Baking Co., bbbop Seoul Kitchen, and The Blind Butcher — as well as specialty food stores and spots like Steel City Pops, Dude Sweet Chocolate, Joy Macarons, and of course Trader Joe's market. Lowest Greenville's nightlife offers the Libertine Bar, the Dallas Beer Kitchen, Bohemian Cafe, and the Truck Yard, a food truck park with a bar perched up in a tree. Both Lower and Lowest Greenville are not to be missed spots of East Dallas living!
6. East Dallas Trails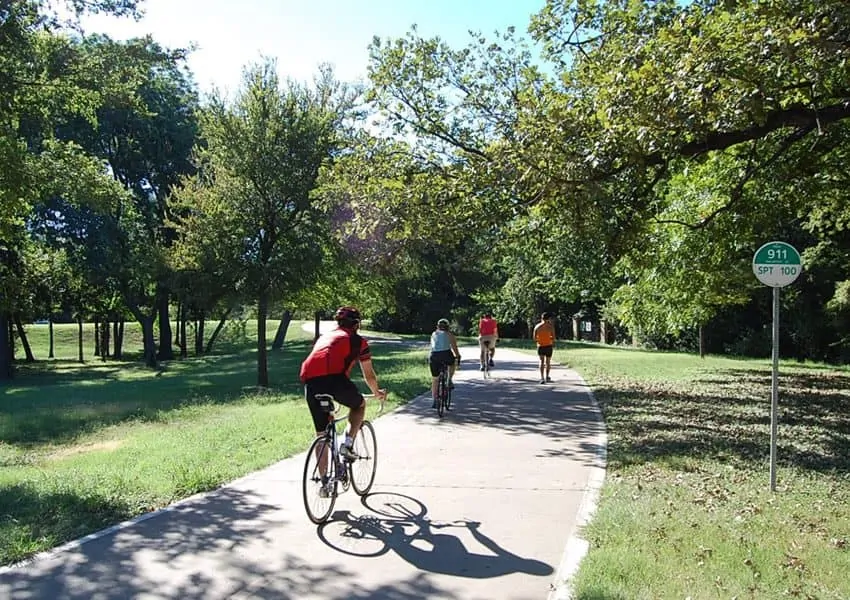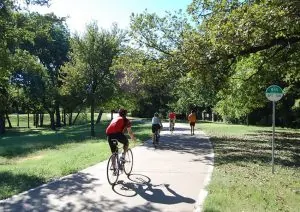 East Dallas has always been prized for its walkability, and the city's numerous hiking, biking, and walking trails greatly contribute to that value. The Mockingbird Pedestrian Bridge, which connects the Katy Trail to Ridgewood Trail, allows cyclists and runners to travel from White Rock Lake to Victory Plaza by trail. Still in progress is a larger project called The Loop, over 50 miles of trail connecting White Rock Lake, the Great Trinity Forest, and Downtown. Other treasured East Dallas trails include White Rock Lake Trail, White Rock Creek Trail, The Flag Pole Hill Trail, The Cottonwood Creek Trail, Santa Fe Trail, as well as park trails at Lakewood Park, Tietze Park, and Winfrey Point Park. East Dallas has lots to offer to those who love the outdoors!
5. Mockingbird Station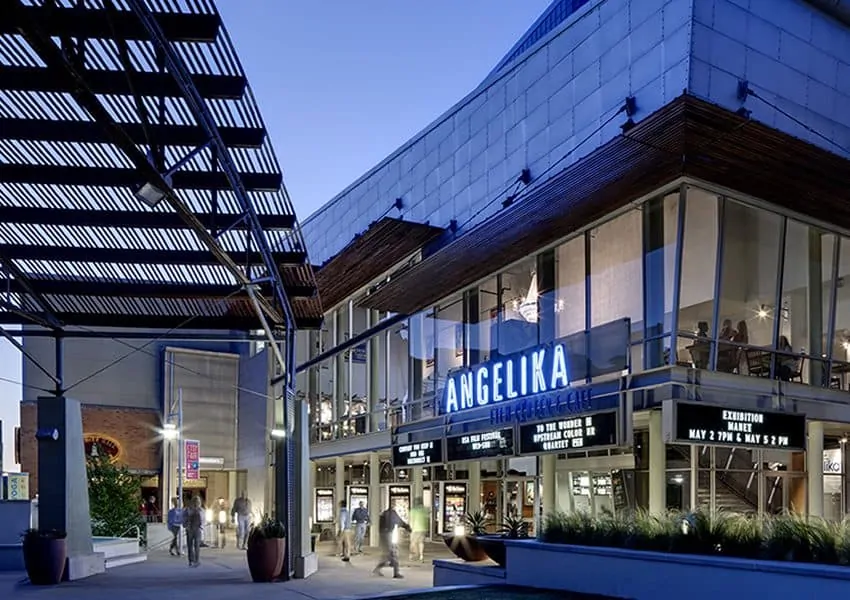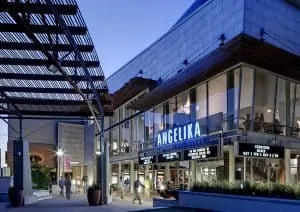 Mockingbird Station is at the center of a thriving area, with a variety of national chains and local boutiques (including 9Round Fitness, Bath & Body Works, Core Power Yoga, Michael Raymond Salon, Wink Beauty Bar, Sunglass Hut, Urban Outfitters, Victoria Secret, and the Gap), as well as a variety of casual dining spots (including The People's Last Stand, Trinity Hall Irish Pub, Twin Peaks, Urban Taco, Agu, Buda Juice, Cafe Express, Dallas Grilled Cheese Co., Edith's French Cafe, and Old Chicago). Mockingbird Station is also a frequent entertainment destination for Dallas residents, with the hip Angelika Film Center for independent, art-house, and first-run cinema, as well as laughs and drinks at Hyena's Comedy Club. One of the biggest features of Mockingbird Station is that it is also a major Dallas Area Rapid Transit station with access to a number of city buses and the Red, Orange, and Blue Lines — giving riders the ability to get to anywhere served by DART, from Downtown up to Plano, out to Fair Park, all the way to Downtown Rowlett, and even to DFW International Airport.
4. Dallas Arboretum and Botanical Garden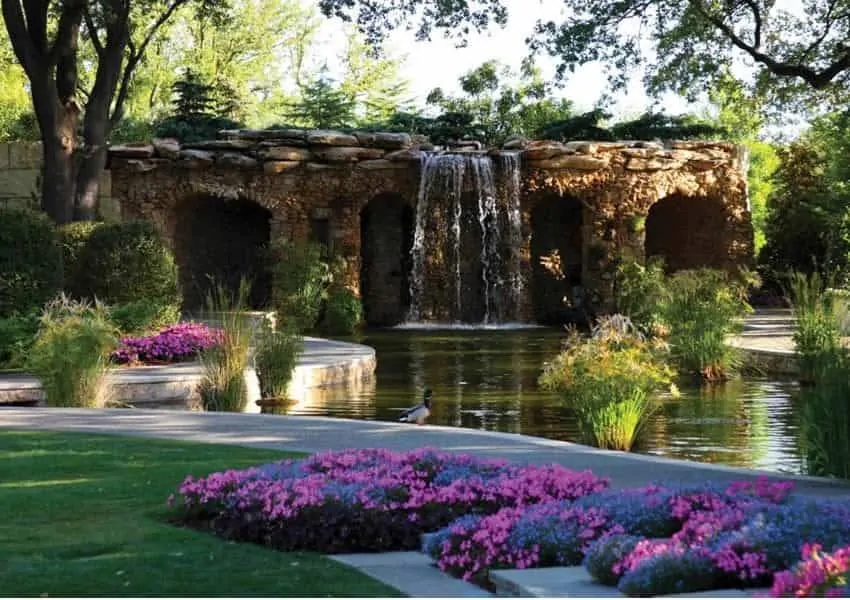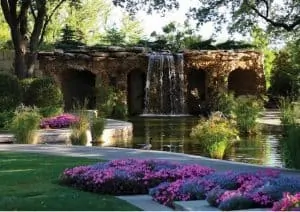 On the eastern shores of White Rock Lake, the Dallas Arboretum and Botanical Garden is home to 66 acres of lush flower beds and beautiful manicured lawns and trees. Throughout the year, the arboretum hosts a number of seasonal events, including the Cool Thursdays Concert Series, Summer at the Arboretum, Tour des Fleurs, Pumpkin Patch, The 12 Days of Christmas,
Food and Wine Festival, and Dallas Blooms, among others. The gardens feature over 2400 types of azaleas, including the only public Huang Collection specimens to be found outside of China. The arboretum also offers a complete life science laboratory, dedicated to fulfilling the arboretum's mission of "building and maintaining a public venue that promotes the art, enjoyment and knowledge of horticulture."
3. White Rock Lake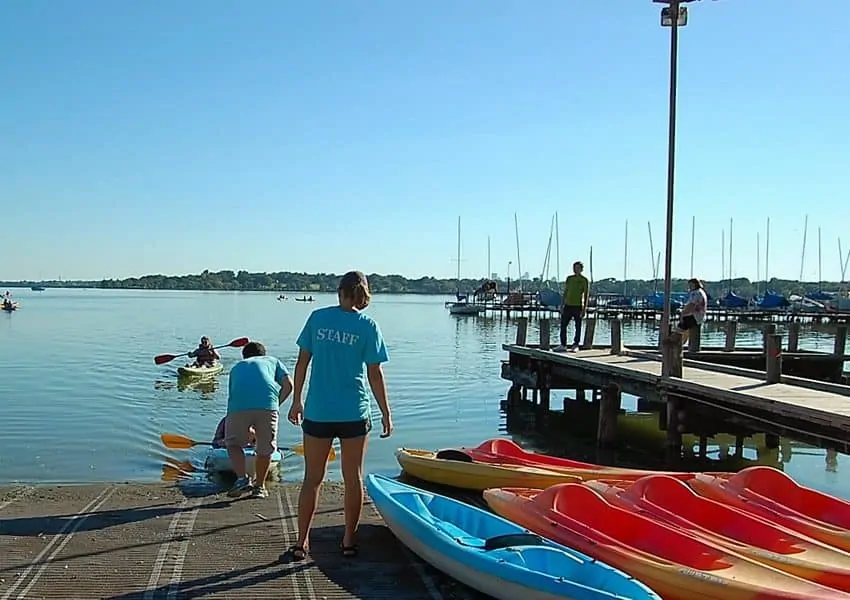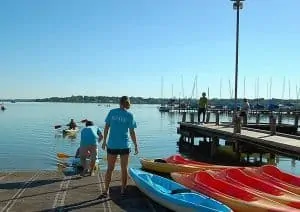 The pride of nearly all East Dallas neighborhoods, White Rock Lake covers over 1,000 acres of wooded parkland and offers 9 miles of jogging and biking trails, as well as picnic areas, playgrounds, a dog park and a cultural center, and of course the lake itself with its opportunities for paddle-boarding, kayaking, sailing and fishing. The park is home to hundreds of species of wildlife, dozens of varieties of trees, and more than 100 grass and plant species, with lots of opportunities to experience the joys of nature while living in the heart of a big city (the park also affords one beautiful views of Downtown!). White Rock Lake also hosts a multitude of events, ranging from boat races and music festivals to the March of Dimes Walk America, White Rock Marathon, and the White Rock Lake Trash Bash — and many others! All Dallas residents treasure White Rock Lake, but none more so than those living in East Dallas!
2. The Neighborhoods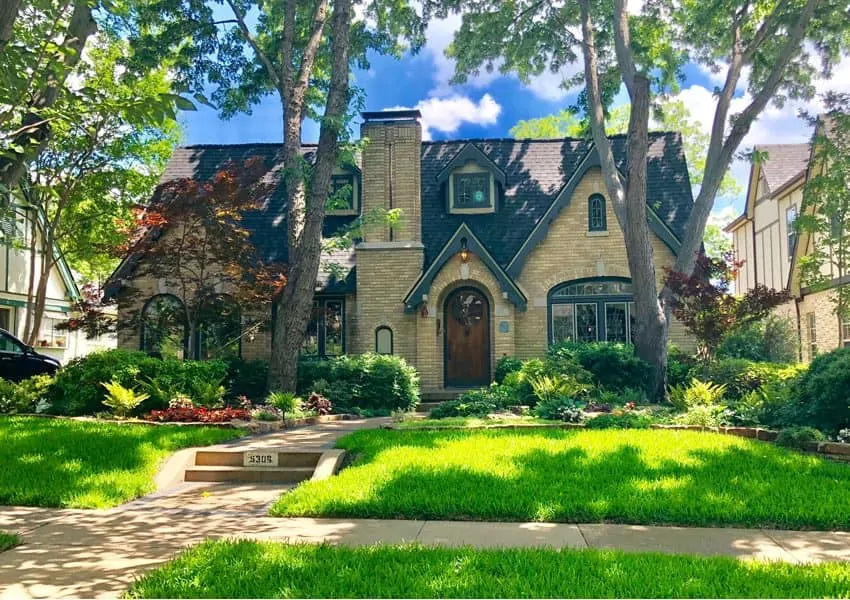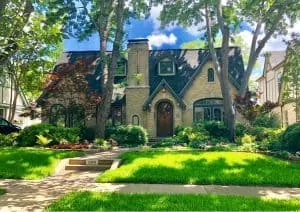 East Dallas neighborhoods are unlike anything the rest of Dallas has to offer, which is why so many East Dallas residents value the sense of community and shared purpose offered by East Dallas living. Over one hundred and twenty-five years of construction have produced an extraordinarily varied collection of architectural styles, including Craftsman bungalows; Colonial Revivals; sturdy Four-Square houses in the Prairie, Neoclassical and Craftsman styles; stucco Spanish Revival and brick Tudor; and even Italian Renaissance cottages. Many of the neighborhoods, with their wide, mature-tree-lined streets, are also historic conservation districts dedicated to preserving that architectural diversity and integrity. The location of East Dallas neighborhoods is also of great value to its residents, with the neighborhoods being uniquely positioned amongst the best that Dallas has to offer — shopping areas filled with restaurants, bars and shopping, proximity to Downtown Dallas and the Arts District; Uptown, West Village, and Highland Park; Knox-Henderson, Lower Greenville and Lakewood, and Deep Ellum and the Santa Fe Trail. East Dallas neighborhoods all feature a strong sense of community, with residents banding together to help each other and to ensure the neighborhoods remain cherished by homeowners and coveted by visitors!
1. The People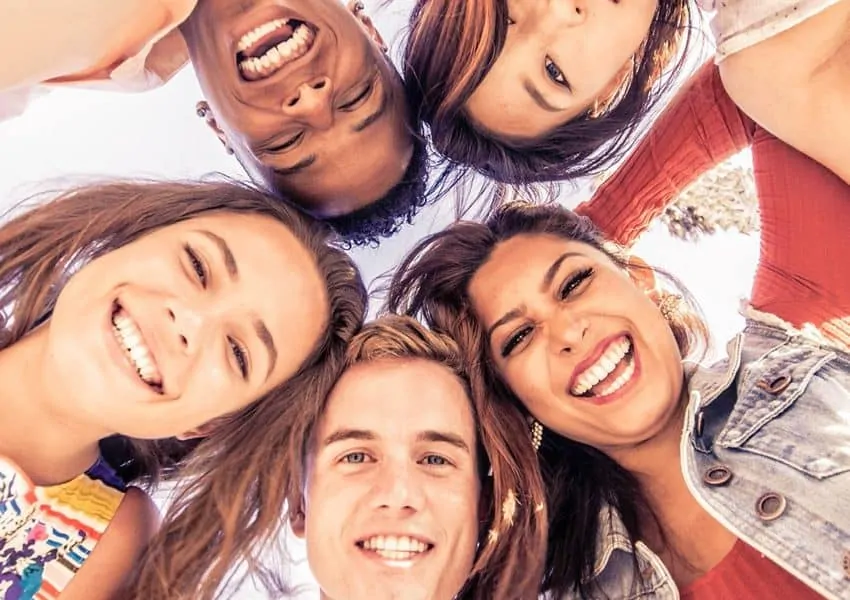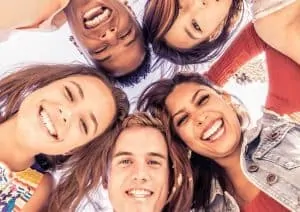 East Dallas neighborhoods wouldn't be what they are without the amazing people that call it home, and all residents of East Dallas comment on the friendliness of their neighbors and the sense of community that stems from homeowners working together to make their communities strong. East Dallas residents enjoy the walkable locations of the neighborhoods and there is always activity — no sterile, empty suburban streets here! Residents look out for each other, looking after each other's homes and pets in their owners' absence, keeping a vigilant eye on neighborhood safety, and caring for each other in times of loss or need. Each East Dallas neighborhood has its own numerous community events year-round, including block parties, ice-cream socials, garage and rummage sales, and many holiday parades and events (like the famous Lakewood Fourth of July parade). East Dallas residents are also notable because of their diversity — musicians and professors, artists and principals, writers and secretaries, doctors and salesmen, all races and ages — East Dallas neighborhoods thrive because of their eclectic mix of people, home styles, and cultures. All East Dallas residents know that their communities wouldn't be what they are without the amazing people who call East Dallas home!
---
Are you looking to buy your dream home in Dallas, Texas?
If you are a home buyer, our foremost goal is to provide you with exceptional customer service. Our goals are to help you purchase the right home, make sure you don't miss out on any homes that meet your needs, and make sure you don't pay too much for your next home. Please utilize our Dallas real estate expertise to make your home search and buying experience as stress free and rewarding as possible.
Search All Available Dallas Properties
---
Relocation Information
Are you thinking about relocating to Dallas, TX? I can help you find the perfect home and make your move as stress-free as possible. I can offer valuable insight about the area to help you through your home buying experience. Contact Me at (972) 832-1943.
---
Are your thinking about buying or selling in Dallas?
I am a local expert and am here to help guide you through your home buying or selling experience.
---
Looking for more information about Dallas?
Being from the area, you receive the benefits of learning about great neighborhoods, trends and hot spots.
---
I hope that you enjoyed this post!
Find More Valuable Information and Read Our Blog!
Susan Georgeson, Lakewood / East Dallas Expert
6301 Gaston Avenue Dallas, TX 75214
Contact Susan